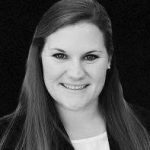 Jillian Torre has been serving as HeartShare St. Vincent's Junior Board Treasurer for the past year. At one of the first meetings, the growing group was parsing through roles and responsibilities, goals and events. When it came to the role of Treasurer, Jillian bravely raised her hand to volunteer. "We all jumped in and wanted to learn," said Jillian about stepping into the role.
Jillian, who has always enjoyed math in school, is now working closely with the fundraising and events committee to measure whether or not the Junior Board is meeting its goals. "It's about putting systems in place, so that we know ahead of time how we'll track certain donations," explained Jillian, who was describing tracking in-kind donations, such as for the Board's School Supply Drive for kids in foster care or the Annual Toy Drive during the holidays.
Jillian also notes that her role is not just about counting dollars raised, but also about planning ahead. For an upcoming event on Sunday, May 7th, the Junior Board has partnered with a corporate sponsor. "We're hosting a different kind of event, an athletic one, and because of our sponsor, more proceeds from the event will go directly to our children."
Giving back is something that's always been a part of her life. Her father, Paul Torre, has been a HeartShare Board Member for 20 years and served as Chairman since 2009. During the agency's former beloved annual Christmas tree lighting event, her parents ended up being the highest bidder on one of the trees. "Where did that come from?" young Jillian inquired with wide eyes, looking at all the Disney ornaments. "HeartShare," they answered. This is one of Jillian's earliest HeartShare memories.
Growing up, Jillian helped her dad during an annual fishing trip. "We took the kids (from HeartShare) every summer. For some of them, it was their first time on a boat and when they reeled in their catch, it was like they won the lottery," Jillian recalled fondly. Jill also donated tickets to HeartShare when she performed in community theater and always looked forward to meeting the group after the show.
Jillian, who currently is a Senior Marketing Associate for The Financial Times, continues this spirit of community involvement and leadership on the Junior Board. Jillian is looking forward to an even brighter year for the group. "I'm so passionate about this role. You should've seen the children's faces when they saw Robert (Serenbetz) in the Easter Bunny costume. There's nothing like spending time with the kids."
Thank you, Jillian, for your efforts!