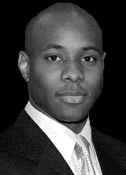 Javier Seymore is passionate about his role on the HSVS Junior Board. Javier, who currently works as an attorney for the NYPD, has taken the initiative to enlist the support of his colleagues. "Around the holidays, I asked a couple of people to contribute to the Toy and Gift Drive," he recalled.
Javier was being modest, of course. He had about 50 people donate stuffed animals, dolls, trucks, basketballs for HSVS children in foster care, as well as gift cards, video games and headphones for older youth.
Javier first learned about HSVS at a recruitment event early last year. Since then, he's been involved with attending Junior Board events, like the salsa class, to gathering donations for the School Supply Drive, an online campaign to send HSVS American Dream Scholars off to college with supplies and luggage. Again, at work, Javier asked his colleagues to kindly donate supplies.
Javier also volunteered his time speaking to college-bound students at the HSVS College Boot Camp, a week-long agency event which offering workshops and resources on how to handle the stresses of college life. Javier often teaches legal classes in the evenings.
Prior to the HSVS Junior Board, Javier served as a referee for Little League football and basketball. His strong connection to the agency is from his family life. "I saw my mom care for and nurture children in foster care. She's adopted two – my sisters, ages 8 and 17. I see what they've all gone through."
What is Javier looking forward to this year? "I want to try very hard to get more exposure for the agency and secure more resources for our kids. They deserve it."